—Meet our team.
We are a world-class team of extravagantly talented and prolific designers, strategic thinkers, creative explorers, and communicators. Each member contributes senior-level expertise and a relentless drive to get to the heart of what matters most to your business.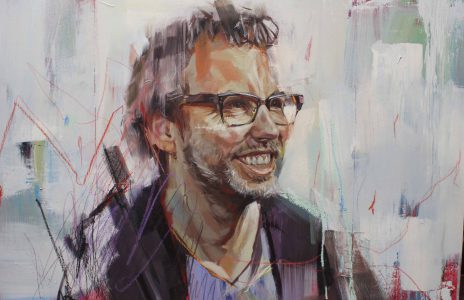 Sean Carter
Principal / Director of Design
sean@carterhales.com
As Director of Design, Sean oversees every aspect of client projects, and leads a talented, creatively energized team. His uncompromising vision and effervescent energy shape the Lab's ethos. An exceptional listener and communicator, Sean believes in the power of collaboration and design thinking to solve business challenges and drive bottom-line results. Endowed with the ability to think linearly, laterally, vertically, and orthogonally, all at the same time, Sean relentlessly pushes boundaries to create work that is fresh, distinctive, beautiful, and relevant. His approach creates deeply trusting long-term relationships and attracts a growing network of clients who appreciate the value of great design.
Before launching Carter Hales Design Lab, Sean was a founding partner of one of Canada's largest independent graphic design and advertising firms. He also launched The Pink Door Paper Company, an award-winning and commercially successful line of high-end stationery and spa products, which he sold in 2016. That business-building experience gives Sean deep practical insight into the goals and challenges facing entrepreneurs and business leaders. Sean has won over 200 design awards from major local, national and international design competitions and his work has been published in numerous industry journals. As a former faculty member at Capilano University for 10 years, he taught hundreds of design students, and he is a frequent speaker and presenter on themes related to design and creativity. Sean channels his surplus inspiration into painting and photography.
illustration by Drew Young —dyoung.ca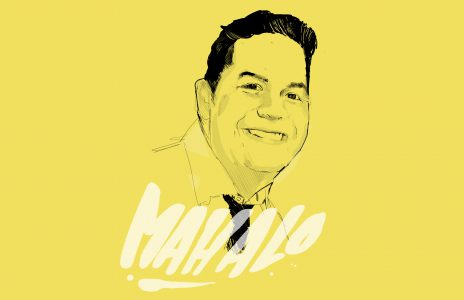 Stuart Freer
Director of Account Services
stuart@carterhales.com
Stuart is responsible for establishing client expectations for timelines, milestones and outcomes, and then ensuring that the Lab exceeds them. Client relationships, strategy, planning and implementation are his domain. The role requires affability and optimism. That's Stuart. He loves helping people. The role also requires someone who is business-minded, organized, detail-oriented, and bossy. That's Stuart too. He's a big-hearted task-master—imagine a combination of Olaf and Sir Topham Hatt. Over his 15-plus years in the creative services industry, he's managed countless advertising, branding, website, print and packaging projects for clients such as Urban Barn, JOEY Restaurants, White Spot, Boston Pizza, BC Hydro, and the City of Vancouver. More recently, Stuart has directed projects for Translink, BC Place, YVR, BCAA, BCLC, Taymor, and the Vancouver Writers Fest. A hockey guy, history buff, and worker of wood, Stuart grew up in the 'burbs of Vancouver. He furnished his mind at Kwantlen Polytechnic University and BCIT, where he studied marketing, business administration, financial management, and accounting.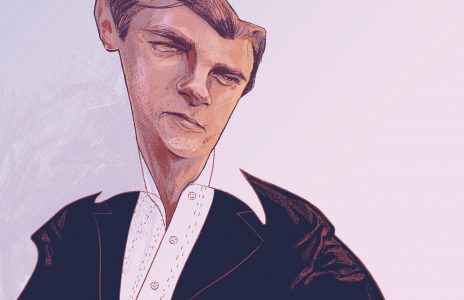 Andrew Schick
Associate Design Director
andrew@carterhales.com
Artist, dreamer, philosopher, skater, and trueborn graphic designer, Andrew excels at combining bold, expressive typography with illustration in editorial layouts, and at transforming brand elements into cohesive identities in logos, packaging and websites. He has helped bring to life brands such as Granville Island, BCAA, Translink, the Wickaninnish Inn, Genome BC, Vancouver Writers Fest, YVR, and XOXOLAT, and his design and illustration work has been recognized by the Lotus Awards, Applied Arts, Designedge Canada Redgee Awards, and the GDC Salazar Awards. Born in North Vancouver, Andrew began drawing and painting at an early age, and fell in love with vintage comic books. While working towards his BFA, Visual Arts Honours, from the University of Victoria, he spent his free time creating posters for events around campus using illustration and hand-cut type. He later honed his commercial design  skills by earning a diploma from Capilano University's IDEA program. Along the way, Andrew allowed his sensibilities to be warped by the raunchy, surf-and-punk steeped illustrations of Raymond Pettibon, and the appealingly weird fiction of Haruki Murakami. Like another of his heroes, Robert Rauschenberg, Andrew lives in the gap between art and life, finding inspiration and hearing polyphonous muses while painting or sketching in the studio, bombing a hill, combing the rugged beaches of Tofino, or watching the world blur past from the saddle of his road bike.
illustration by Benjamin Stone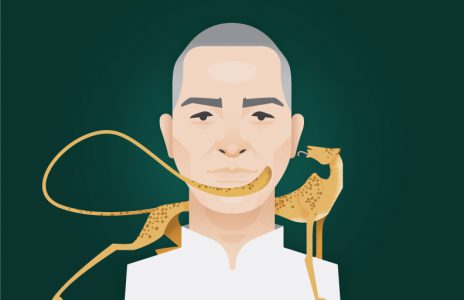 Martin Lowe
Director of Digital
martin@carterhales.com
Martin artfully stickhandles the production of website development projects, working with clients to define expectations and set budgets and timelines, then drawing up gameplans for the Lab's designers and coders. He's one of those effortlessly organized people: his actions, expeditious; his methods, methodical; his deliverables, delivered. He does it all with infectious optimism, warm good humour, laughter, and regular check-ins to keep everyone jazzed. Originally from Quebec City, Martin's extensive professional background includes event planning, digital printing, web design, digital project management and account management, both as a principal and a team lead. His portfolio includes outstanding projects for a wide range of clients, including The Canadian Country Music Association, The Terry Fox Foundation, and the Port Authority of New York & New Jersey. More recently at Carter Hales he has focused on driving results for Interstyle, SpringBoard, TSO Logic, and JOEY Restaurants, and he was a key contributor on award-winning projects for Four Fox Saké and Vantage Airport Group. Away from the Lab, the flourishing community and vibrant cultural scene of New Westminster is the perfect milieu for Martin's bohemian, dad rocking, craft-beer connoisseuring ways.
illustration by Rosie Gopaul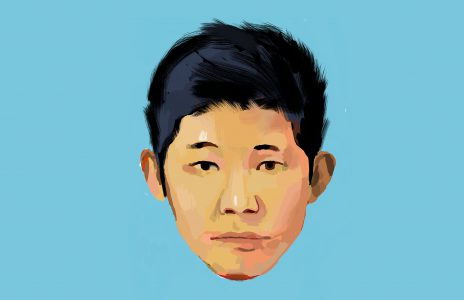 Alan Chao
Lead web developer and UX designer
alan@carterhales.com
Alan brings UX and web design thinking to life. At Carter Hales, he has crafted dozens of websites for clients including Vantage Airport Group, LaGuardia Airport, Lynden Pindling International Airport, JOEY Restaurants and Genome BC. His work is characterized by engaging elements that make each site feel unique, and by simplified back-end logic that allows clients to easily update their page content. A native Vancouverite, Alan began making websites for gaming servers at age 10, and ever since has continued to explore and experiment on his own, only pausing long enough to earn a diploma in Interactive Design from Capilano University. An avid gamer who lives in his own simulated galaxy, Alan constantly takes UX and UI ideas from the gaming industry. He predicts that VR/AR and holograms will become commonplace and says, mysteriously, that one day websites "will be something physical." Prolific and fast, Alan overclocks his processing speed with premium headphones and chocolate banana bread.
illustration by Andrew Schick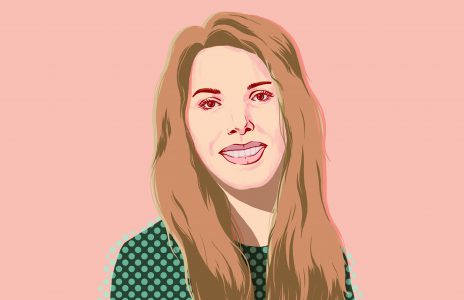 Joanne Henderson
Studio Manager/Producer
joanne@carterhales.com
Joanne is responsible for maintaining the Very Productive Studio Ambiance™ at Carter Hales, and for keeping the Lab's tachometer just below the red line. She reviews each incoming project and determines who is available and best suited to handle it. She manages workflows and work assignments for designers and production artists, and ensures that deadlines are met. After 30 years in agency operations and print-and-paper sales, she remains fascinated by the process of finding creative solutions to business challenges. The origin story of Joanne's career begins when her mom, a gift wholesaler who was doing business with McDonald's, showed Joanne her client's business card. It was a die cut and folded Big Mac. That card, with its two all-beef patties, special sauce, lettuce, cheese, pickles, and onions, on a sesame seed bun, captured Joanne's imagination and inspired her to take a marketing course in high school, and then to earn a Marketing Management diploma from BCIT. When she landed her first job as a production coordinator for a small agency, she knew she'd found her calling. Joanne flourished at some of Vancouver's top agencies, and has worked with a long roster of major brands, including CP Rail, Kellogg's, Electronic Arts, and BC Lotteries. At Carter Hales, she has played a key role in producing numerous large projects, such as the YVR Sustainability Report. Joanne maintains her buffness at the gym, enjoys hiking and golfing, and loves to travel abroad.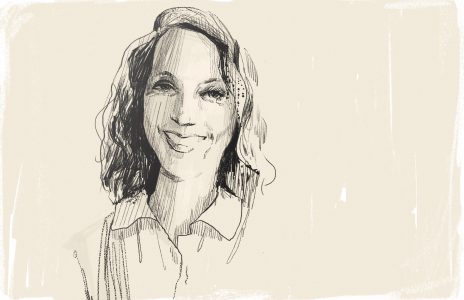 Natalie Freer
Senior Project Manager
natalie@carterhales.com
Natalie ensures clients' objectives are met. Without her steady, controlling influence the Lab would quickly fall apart. Deadlines would lapse, email subject lines would erupt in exclamation marks, and someone would reheat fish in the microwave. Natalie's genius extends far beyond accurate production schedules, status lists, and print estimates. She determines the processes that bring ideas to life. She works closely with clients and colleagues to scope projects and set expectations. She listens, negotiates and solves problems. She helps people, and gets things done. Natalie's skill set combines best practices gained from a decade of experience in marketing production, sales, event management and administration—agency side, company side, and as a consultant. In previous production and client service roles at Rethink and Detroit Creative Communications, her roster of clients included Future Shop, Solo Mobile, Aids Vancouver, Whistler Blackcomb, and White Spot. At Carter Hales, she has worked with YVR, BCAA, Translink, Wickaninnish Inn, and Vancouver International Maritime Centre. She plays a critical role in delivering some of the lab's most ambitious projects, including the award-winning Four Fox Saké bottle. Natalie earned a diploma in Marketing Management from BCIT.
illustration by Benjamin Stone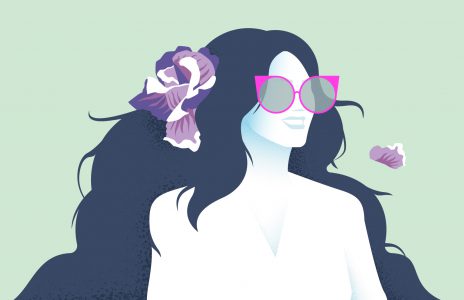 Sherry Jang
Senior Designer
sherry@carterhales.com
Whether she is crafting an annual report, remodelling an interior space, or cooking for her family and friends, Sherry is all about creativity, technique, and finishes. With over a decade of professional experience, she knows how to balance attention to details with big-picture focus. Her extensive professional experience includes projects for YVR, Canadian Cancer Society, Coast Mental Health, Boston Pizza, Vancouver Foundation, and Vancouver International Maritime Centre. Her illustrations have been sold in Crate & Barrel, Simons, and Stonewall Kitchen. Recent noteworthy projects include an annual report for First Majestic Silver, a custom menu folder for the Wickaninnish Inn, and a rebrand of Coast Mental Health's Courage to Come Back Awards. Sherry grew up in Victoria, BC and credits the chance discovery of her dad's forgotten sketchbook for inspiring a lifelong passion for doodling and hand lettering. She graduated from Capilano University's IDEA program, has won several awards, including a GDC Salazar, and her work has been featured in Applied Arts magazine.
illustration by Rosie Gopaul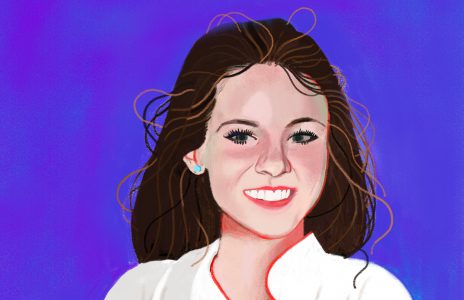 Rosie Gopaul
Senior Designer
rosie@carterhales.com
You may never meet anyone who takes herself less seriously, and takes her work more seriously. Vivacious, sincere, optimistic, and fun-loving, Rosie is unafraid to explore and embrace the #weird and #silly dimensions of life. A gifted and incredibly fast designer and illustrator, her approach combines strategic and creative insights with the conviction that good design should be beautiful, relevant, noteworthy, and true. Rosie grew up in Anmore, B.C. among self-employed businesspeople and artists who nurtured her prolific imagination. She worked in her dad's automotive shop but hung up her torque wrench to study at Simon Fraser University and Emily Carr, before pursuing a degree in Applied Design from The Art Institute of Vancouver, where her grad portfolio won Best in Show. An internship at Rethink and two years with Ballistic Arts fueled her passion for branding, typography, packaging and UI, and led to her joining the team at Carter Hales. Rosie has worked with a diverse set of brands, including Concord Pacific, Steve Nash Fitness, Vancity, St. Paul's Hospital, and Molson Canadian, and more recently with Electronic Arts, TransLink, YVR and BCAA. Her work has been featured in Art Power Magazine, IdN Magazine, and viction:ary's Illustrative Branding book, and on numerous design blogs, such as The Dieline, Package Inspiration, and Creative Review. She volunteers her skills to support the very silly Now That's Ugly Society, which raises funds for the Children's Wish Foundation of Canada.
illustration by Andrew Schick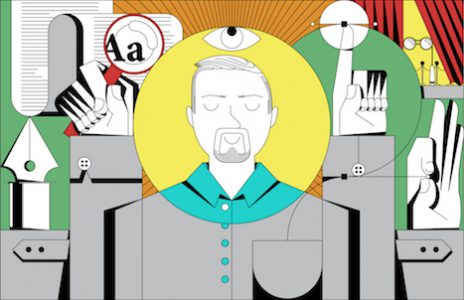 Miles Linklater
Senior Production Designer
miles@carterhales.com
Miles draws on 40 years of experience as a production artist, designer, copy editor and art director and is the Lab's master of annual reports and other large, type-intensive projects. Colleagues smile knowingly as he enters a zen-like state, mind like a river, mist over flagstones. Once, after being completely engaged with his work for 11 hours, he looked up and said, "The entire sky is reflected in the counter of an 'o'." But no-one was there to hear; they had all gone home. Miles ran his own design company for two decades, and his extensive portfolio includes projects for major brands such as HSBC, Nike, Intrawest and The Canadian Red Cross. At Carter Hales, he has produced outstanding work for clients including YVR, Translink, Genome BC and BC Place. Raised in Winnipeg, Miles dedicated himself to two vocations: design and singing. He is an accomplished opera singer who performed for Vancouver Opera and other companies over a 20-year career. He continues to support new and upcoming young singers by contributing his web and design skills to UBC Opera Ensemble and to the Wexford Festival Opera in Ireland. Miles also volunteers for the Vancouver Humane Society and is a vegan epicure.
illustration by Max Littledale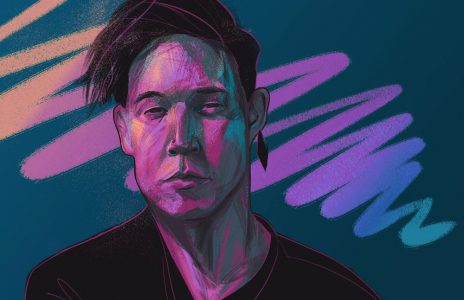 Tony Yu
Senior Designer
tony@carterhales.com
Tony's family emigrated from Taiwan to Coquitlam, BC when he was a small child. Growing up, signs of artistic talent were absent. Instead, his fearless pursuit of adventure resulted in a shocking number of contusions, lacerations, fractures, and ruptures. Fortunately, after briefly studying business, he re-focused his boundary flouting instincts to pursue a physically safe career in graphic design. Tony loves to create bold, beautiful work that gives brands a unique voice and sets them apart from their competitors. He has designed assets for A&W, shomi, Shaw, Molson Coors, City of Vancouver, Translink, YVR and The Vancouver Writers Fest. An earlier project for People Footwear whet his appetite for working with fashion and footwear brands. That project involved sketching designs, ideating on different construction methods, choosing materials, creating exterior graphics, and liaising with manufacturers. As a graduate of Capilano University's IDEA program, Tony received a GDC Salazar Award and an Applied Arts student award. He sews some of his own clothes (mostly black tops) and recharges with midnight walks and solo dancing when no-one is looking.
illustration by Benjamin Stone

Christine Brett
Account Manager
christine@carterhales.com
Christine is all in. For the deep dive into each client's unique challenges and opportunities. For the research that uncovers strategic insights. For the collaborative design thinking that extracts brilliant ideas. And for the hard work to ensure flawless execution. Christine mediates the intersection of business objectives, user/consumer needs, and creative ideation, in order to transform brands and propel businesses forward. Born in Montreal and raised in Stockholm and Whistler, she was inspired by the cutting-edge design and editorial in magazines like i-D and and Wallpaper then later, the design and development of digital experiences. She earned a bachelor's degree in Communications from Simon Fraser University, augmented with a Design Management course through University of the Arts London. Before joining Carter Hales, Christine kickstarted her career in public relations, followed by several years at another Vancouver-based digital branding agency, resulting in a perspective grounded in brand strategy, the importance of research and agile project management. If not in the world of brands and digital, Christine would be an urban planner and she loves to recharge her mind, body and spirit with yoga and by spending time in the elements snowboarding or surfing.
illustration by Sierra Holmes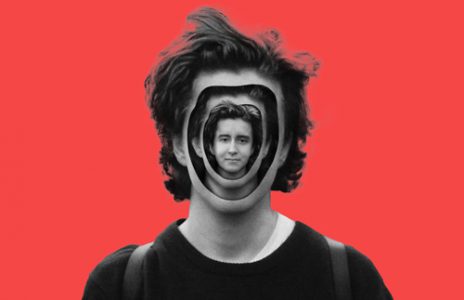 Max Littledale
Designer
max@carterhales.com
A creatively voracious designer, illustrator and motion graphics specialist, North Vancouver-born Max emerged from the local talent pool and the local gene pool, inheriting a fascination with design from his art director father. But what if young Max hadn't spent so much time messing with Photoshop and Flash? He might have become a physicist or the programming genius behind some high-tech unicorn. Or a pro skateboarder. Any of those would have been pretty impressive. Instead, he built a portfolio of illustrations and animations for local musicians while studying at Capilano University's IDEA School of Design. A semester studying design and experimental illustration at Hochschule Darmstadt in Germany made his work more gewagt, and led to the publication of a book of his illustrations. Max graduated with two Applied Arts Student Awards, and as a CAPIC Rodeo8 double finalist, a Lexus National Design School Challenge finalist, and a Jim Rimmer Scholarship winner. Pretty impressive. An internship at Rethink primed him to join Carter Hales, where he's excelled on projects for Rocky Mountaineer, YVR and The Vancouver Writers Fest. He loves exploring ideas, experimenting with different directions and, whenever possible, using motion to make design projects more immersive. Passionate hobbies include playing, composing and recording music, and 35mm film photography.
illustration by Rosie Gopaul