Idea Lab
—Development Program
We are entrepreneurs at heart
As designers, we experience and interpret the world through the lens and language of design and strategy, and we have no off button. As a result, we continually generate an overabundance of creative, entrepreneurial ideas where design is the key differentiator. These may be opportunities to revitalize demoded products in neglected categories, or to create new products in underserved or vibrant emerging categories.
For the most compelling opportunities, we partner with others who have the practical capabilities to launch products to the market.
Sound interesting? Get in touch; we'd love to talk!
Phases
1. Concepting
2. Research / Strategy
3. Prototyping
4. Launch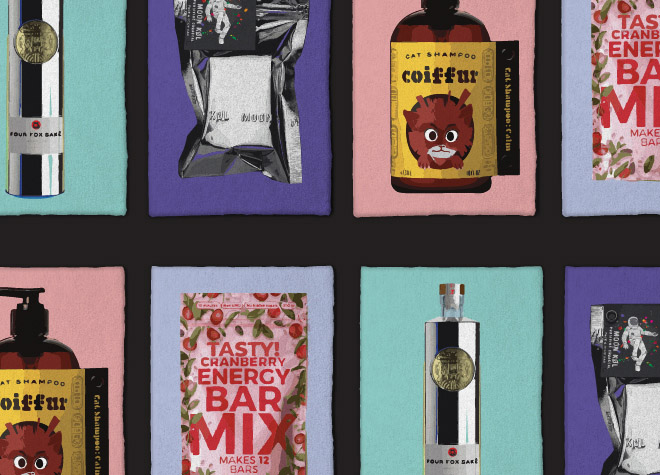 case study #1
partner: Burritt brothers

development phase: prototypin
g
—Rugs
graphic design as artistic expression
We noticed the trend of fine-art paintings reinterpreted as hand-tufted wool and silk rugs. Naturally, we imagined rugs featuring beautiful packaging designs. These are bold, adventurous, Warholian statements whose function as objects you walk on provokes questions about the intersection of art and commercial design.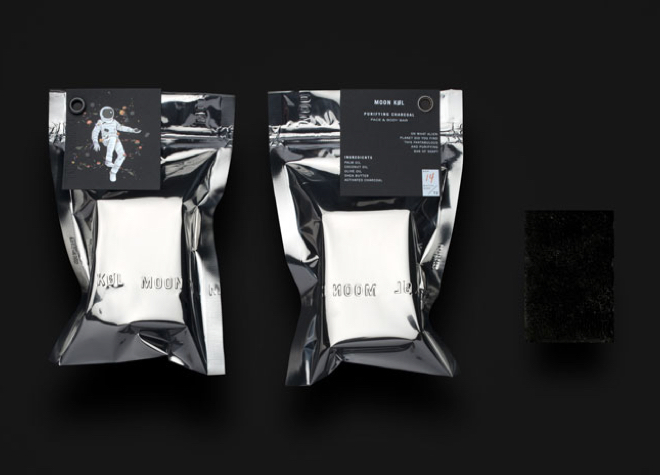 case study #2
partner: available
development phase: launch
—MoonKøl
charcoal face and body bar
We saw an opportunity to have some fun with men's grooming products, a category that had become predictable with tiresome 'barbershop' motifs. Charcoal soap has purifying characteristics and an otherworldly appearance, making you wonder where, exactly, it might have come from. The illustrated astronaut surrounded by flowers was just the touch to cut through the retail clutter and engage consumers.
—Awarded Bronze in 2018 Pentawards Body Category
—Received 2018 Applied Arts Design Award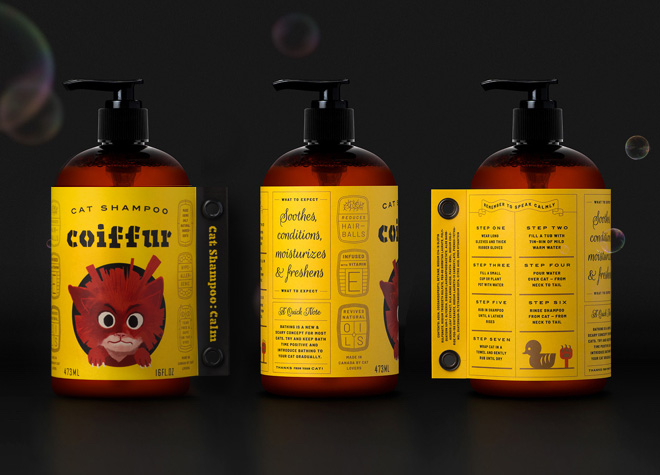 case study #3
partner: available
development phase: launch
—Coiffur
cat shampoo
Cat shampoo brands typically present generic, uninspiring packaging featuring photos of cute cats and stems of lavender—oblivious to the fact that shampooing a cat is a usually a traumatic experience for all parties. Coiffur's package design appeals to cat lovers in an entertaining and honest way, and provides playful instructions for successfully bathing an animal that is averse to being submerged.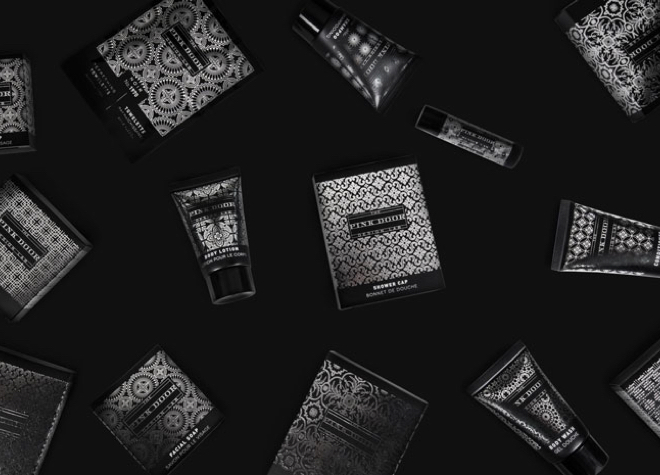 case study #4
partner: JRS amenities
development phase: in market
—Pink Door
hotel and airline amenities
Our first experience with creating and running our own brand, Pink Door was launched in 2007 with a line of 8 notecard sets. We extended the brand in the stationery and beauty categories, growing to 167 SKUs with distribution in 6 countries. In 2017, we sold the stationery line. Since then, we've focused on an amenity line of 3 distinct scents which are marketed and sold to boutique hotels and airlines.
—Pink Door has received more than 40 design awards from international competitions over the last 10 years.
—Placed in Lürzer's Archive Permanent Collection.