Running with scissors since 2012.
We specialize in the cosmetics saké chocolate aviation luxury butt wipes stadium hotel shampoo travel beer festival art gallery bourbon gaming wine wedding sports car fashion gin industry.
Don't take our word for it.
Here are a few ambitious brands that know that you can't stand out by blending in:
Partial client list
3Form / Anxiety Canada / Arts Club Theatre / Bard on the Beach / BC Place / Blumaan/
Box Interior Design / Butt Wipes / CDm2 Lightworks / Collaborative Companies /
Electronic Arts / Four Fox Saké / Four Seasons Hotel / Genuine Guide Gear /
Interstyle Glass / Kamloops Stills Co. / Kate Duncan Woodworking / LaGuardia Airport /
Light Art / Lynden Pindling International Airport / Moraine Lake Lodge /
Paxson Fay / Place des Arts / Port Authority of NY and NJ / SeaChange Seafoods /
St Helena Government / Taymor Industries Ltd. / Telus / The Wickaninnish Inn /
Whistler Real Estate Company / YVR – Vancouver Airport Authority
Reach
CALGARY / CHARLOTTE / DUBAI / HONG KONG / LONDON / LOS ANGELES / MEXICO CITY / MIAMI / MONCTON
/ NASSAU / NEW JERSEY / NEW YORK / OTTAWA / ROME / SALT LAKE CITY / SAN FRANCISCO / SAUDI ARABIA /
SEATTLE / ST. HELENA / TOFINO / TORONTO / VANCOUVER
Humblebrag
Because we design for your success, not self-indulgence, we're not falsely modest about our more than 350 industry awards.
Lurzers Archive – Permanent Collection / PentawardsC / The Dieline awards / New York Festivals / ADCC / Applied Arts / Graphex / Cranes International Letterhead Competition / HOW Magazine International Design Competition / Graphis – Design Annual / Graphis – Branding Annual / Graphis – Poster Annual / Graphis – Brochures Annual / Graphis – Letterhead Annual / Design Edge / Neenah / German Design Award Nomination / Domtar Craft / Island Paper Craft / Fraser Design / French Paper / Gilbert Graphic Greatness / Capic Rodeo / Lotus Awards / Veritiv UVU / Summit / West Coast Art Directors / Unisource Nuar's
Podcasts to Ponder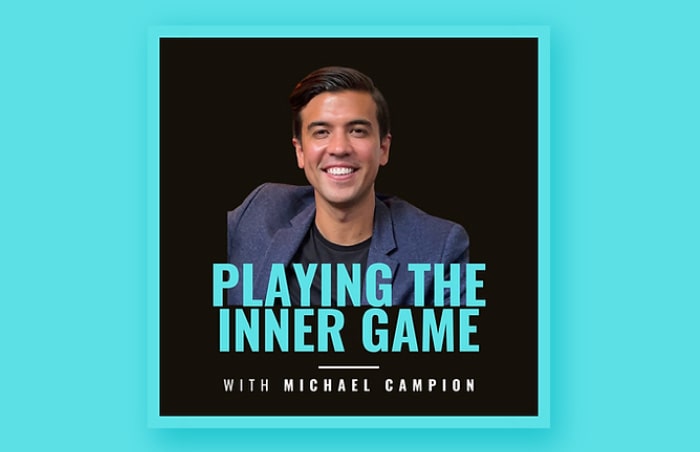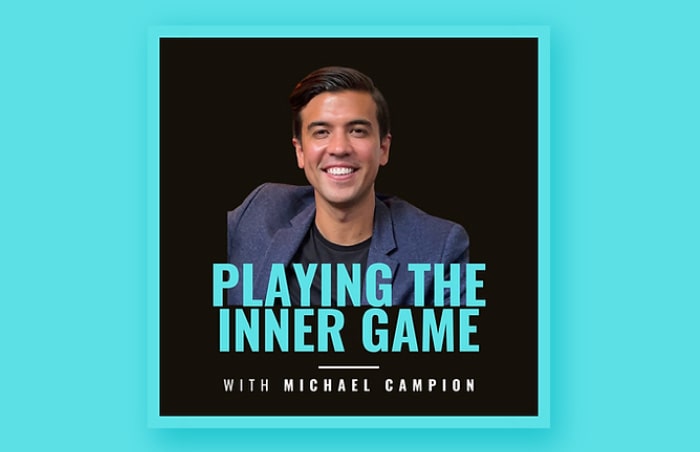 Playing The Inner Game
39. Sean Carter - Award-Winning Graphic Designer for Ambitious Brands that Refuse to Blend In
Michael Campion:
"Sean Carter is the founder and Design Director at Carter Hales Design Lab. Sean's an extremely talented graphic designer that's been in the agency game for 30 years now and someone whose creativity and eye for detail that I really respect. Full disclosure, there will always be a part of me that is heavily indebted to Sean because he is the beating heart of the team that helped us create Four Fox Saké when it was still embryonic. I've had the pleasure of spending time at the design lab in Vancouver, and we also stood side by side on stage in Shanghai as we collected the award for "Best Luxury Alcohol Packaging Design in the World" back in 2016. This is a conversation I've been wanting to have for a long time, life got in the way, but I'm very happy that we got there in the end.
If you work in the fields of design, branding and marketing then the benefits of tuning in are obvious, but even if you aren't involved in these worlds, there's plenty in here to chew on with regards to creativity, self-expression, the relationship between commercial growth and personal growth, the trials and tribulations of entrepreneurship (he is, after all, someone who has been eating what he kills ever since he left university), and why it's imperative to take some risks, and stay out of the safe and mushy middle.
I hope you enjoy this conversation as much as I did."
MC.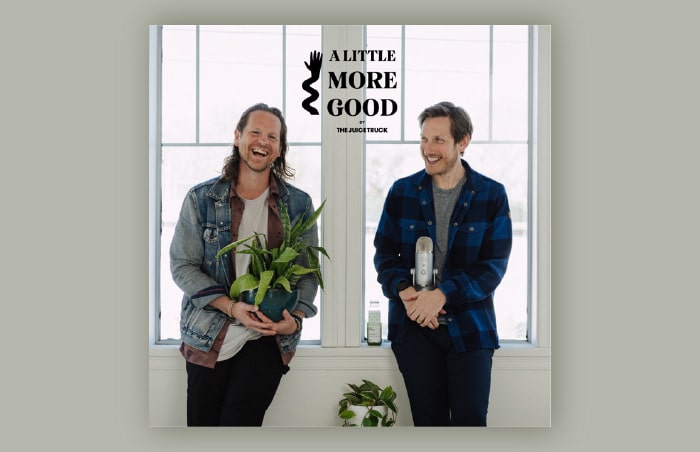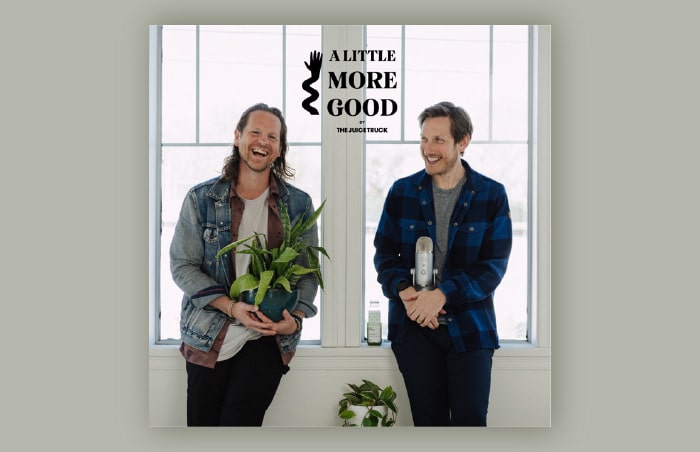 A Little More Good
60. Designing a Life of Resilience with Sean Carter & Judy Brooks
Zach & Dean:
"Hey Friends, Happy Tuesday! We're back with another episode of ALMG! Today we are joined by two guests, the always radiant Judy Brooks and her invitee Sean Carter in the third of our conversations with Judy and her guest of choice. We love this format because we get to sit down with amazing humans who are connected through Judy, her immersion experiences and her knowing our love for meaningful and inspiring conversation.
And today's conversation did not disappoint. Sean Carter is first and foremost an incredible human being who has a calm, cool demeanour and was willing to open up about his life experiences, and how the challenges he faced as a young boy were instrumental in shaping him into the person he is today. An accomplished designer, artist, and entrepreneur Sean started out having to overcome some tough stuff. Through our conversation we jam on creativity, design, designing your life, and we pull some cards and talk through some of the considerations from the artifact Judy, Sean and others created.
We know you will enjoy this conversation!
Get into it!"
Z&D
What our clients will tell you
"Working with the branding agency team at Carter Hales is like solving a problem with a really good friend who is also supremely talented, original and inspired. What I have enjoyed the most is the process of arriving at a design, (imagine enjoying a process!). It is a conversation in the best sense of the word, questions leading to ideas, more examination and deeper questions about what you want to say and how to say it visually. I love their work and equally as important, I love working with them."
Hal Wake
Former Artistic Director
Vancouver Writers Festival
 "You guys have created something truly spectacular – iconic – a complete and genuine work of art – you are gentlemen, gurus and geniuses. From the logo to the chrome to the swords to the light – there is not a bottle on earth that can hold a flame. Bathe in the wonder of your creation, bask in its glory for you have made the world more beautiful. I hope the fucking saké doesn't taste like piss."
Neil Hosie
Co-Founder
Four Fox Saké
"Back in 1995 when the Wickaninnish Inn was in its infancy—before ground was even broken—Sean Carter created our original voice through branding, imagery and consistent attention to detail, perfectly reflecting our vision for the Inn. Through the years we have evolved together and to this day continue to enjoy a warm and productive partnership with Sean through the Carter Hales team. The Carter Hales branding agency has kept us "On Pointe," ensuring our external voice matches who we are and what we offer beautifully, in a way that resonates with our guests. We've observed many milestones with Sean and Carter Hales, and we look forward to many more celebrating "Rustic Elegance on Nature's Edge."
Charles McDiarmid
Managing Director
Wickaninnish Inn